Gina Ehikodi Ojo is the CEO of Geenamoore and Associates and the MD of Foodies and Spice Nigeria Limited.
A law graduate with over 15years experience in Media Content Production and Channel Administration.
Gina started out in media as a teen actress and script writer in 1998, She played the lead role of Tobi in the movie Colours of Tomorrow, a movie exposing the dangers of Child Marriage which leads to Vesico Vaginal Fistula VVF.
After Graduating from the Nigerian Law School Lagos, she rose to the position of the Head Corporate Development Officer at Virtual Media Limited, owners of Nigezie and Orisun TV Channels where she worked for about 6 years.
1n 2012, She joined WAP Productions Limited to lead the team in setting up the WAP TV channel and was the General Manager for 5 years
Geenamoore and Associates which she now leads fully since 2017, is a Media Content Production company creating and producing TV and Online Contents, including below the Line Experiential Activation for Brands and also offers media consultancy services.
Some of their Productions Includes:
FOODIES AND SPICE: Nigeria's foremost Food and Travel Series, Gina doubles as the Producer and host of the program Foodies and Spice. It features various indigenous recipes and cooking techniques. Foodies and Spice has worked with various FMCG's for the past 6 years on TV and Online including brands like Unilever, Nestle, Coca-Cola, Flour Mills of Nigeria (Golden penny Foods), Cadbury, Promasidor. Dufil, Indomie just to mention a few
FOODIES AND SPICE TRAVEL SERIES: Stories from across the world detailing Gina's experiences in food, lifestyle and culture of the countries she visits are made into seasonal docu-series for the viewing pleasure of TV and online audiences. Some of the Travel series include (French Fusion, Flavours of Azerbaijan, Amazing China etc). These travels series have been supported or fully sponsored by the French Consulate in Lagos, Friends of Azerbaijan Organization and the Beijing Wan Xiang travels respectively. Foodies and Spice can be watched on over 10 indigenous TV channels in Nigeria and Online.
TRIPLE L MEN (Live, Love, Legit): This is a magazine show profiling the life of various Nigerian men on how they live, how they love and their legitimate lifestyle. The documentary is aimed at changing the narrative or stereotyping of the "Nigerian Man" bringing to the limelight the positive attributes and tenacity of a real Nigerian Man.
FEED YOUR LOVE: This is a below the line experiential activation and format designed for brands to reach their consumers and foster brand loyalty at wedding Ceremonies across Nigeria. The content from these wedding activations are made into episodes and Seasons for both TV and Online Channels. FEED YOUR LOVE is being sponsored by Golden Penny Foods now.
TOAST TO LOVE: An offshoot of the FEED YOUR LOVE projects but designed for Beverage brands.
FOODAHOLIC FESTIVAL: This is a gathering of Foodies from across Nigeria to celebrate food. The festival features, FMCG's, Food Vendors, SME's in Food production and services, Farmers, Food bloggers/Influencers who host Meet and Greets, Foodaholics (fans of the TV show Foodies and Spice) who come as teams to compete in Food related activities to win prizes. The Foodaholic Festival 2019 recorded close to 2000 people in attendance, with brands like Coca-Cola, Mamador, Cadbury, Nestle, Peak Milk etc in attendance
BUDGETMUMMY NIGERIA: This is an online Marketing or Telemarketing content designed to help Individuals shop on a budget. Plans are in motion to create daily skits on the platform to encourage sales.
Geenamoore and Associates is looking to produce Home movies, Drama series and films from June 2020, hoping to carve a niche for their selves in the Movie space. (There are 2 scripts ready for production 1. On the Aisle: a TV drama series and 2. The Suicide: A TV drama series bothering on mental health.
Gina is also a social media Influencer with over 70 thousand followers on her Verified Instagram page @geenafoodiesandspice, over Fifty Thousand on her facebook fan page and various other platforms where she relates with her fans while sharing her lifestyle and activities. She is also the Life Matron of the House of Rammah Foundation whose duties are to get as many out of school kids back to school by supporting them with School fees and Educational materials.
AWARDS:
November 2014, just barely one year after Foodies and Spice hit the screens and on its 5thSeason, Foodies and Spice was awarded the (VIEWERS CHOICE) BEST BRAND/BUSINESS FOOD PROGRAM ON TV by the NIGERIAN BROADCASTERS MERIT AWARD 2014
foodiesandspice.comwas Nominated as BEST FOOD BLOG in NIGERIA by the NIGERIAN BLOGGERS AWARD 2015
Recipient of The HOPE LEGACY Award for impactive contribution and commitment to excellence in the Entertainment Industry
Naija Top baker Special recognition Award for promoting Baking on TV 2016
Azerbaijan National Culinary Association Award for Special Services to Azerbaijany culinary culture 2018
Gina is married to Mr. Adedeji Ojo, MD of Springe Edge Nigeria Limited (A Construction and Project management Company) and he is also the Executive Producer of Foodies and Spice. They are blessed with Twin Boys, Jason and Jaden Ojo.
---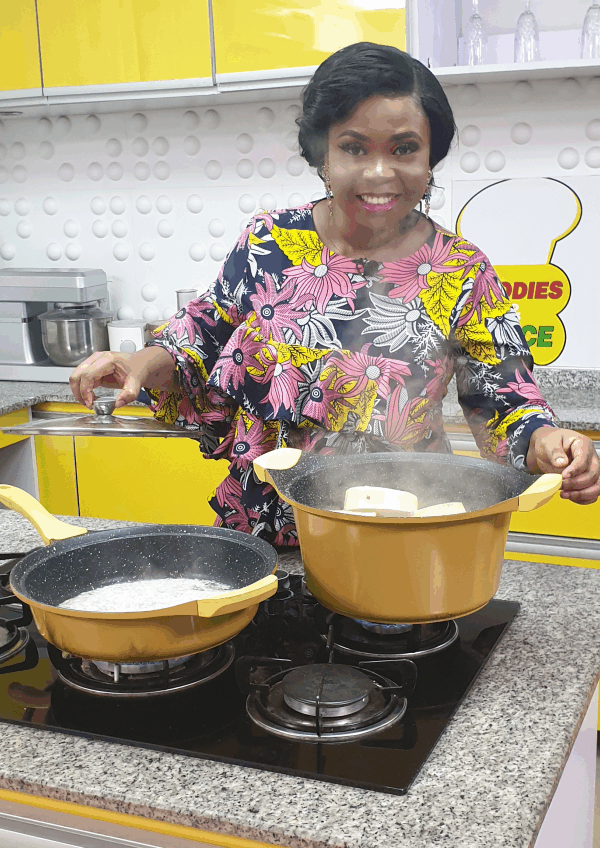 Title: Foodies and Spice
Genre : Lifestyle
Episodes: 100+
Duration: 26"
Synopsis:
FOODIES AND SPICE hit the screen on the 1st of October 2013 and immediately garnered an amazing followership that has never been witnessed by any food and travel show in Nigeria. Its style, format and Creativity has brought a refreshing to television programming in its genre. Evolving from just a cook show to producing Food travel series and Documentaries from across the world and also organizing very successful food events.
---